Monday, November 30, 2009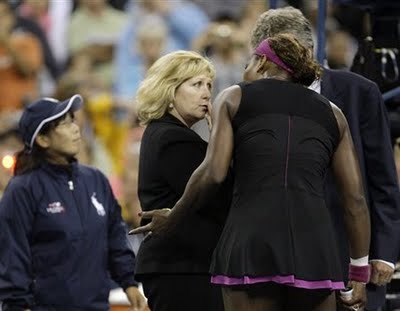 Serena Williams discussing her exchange of words with line judge(far left) with U.S. Open officials.
via

foxnews
Serena Williams was fined a record $82,500 for her admonishment of a line judge at this years U.S. Open.
She will be put on probation for the next two years, meaning, if she does it again, her fine will be doubled and she could barred from the U.S. Open.
You may recall she got disagreed with an official on Sept. 12th during U.S. Open women's finals match against Kim Clijsters. Upon her serving, the line judge called a foot fault - a call you almost never hear at that point of a match - thus giving a point to Clijsters.
Williams again prepared to serve, but, this time walked over to the woman and started asking her how she could make such a call?
I watched the match and have to admit I was shocked at the call! Williams had rallied back from having been down and actually had a chance to win the match. It was unfortunate because Clijsters, who played a great match, wasn't given the chance to win by defeating her. Any good athlete prefers to not have an asterisk next to a win.